Meet Chef EJ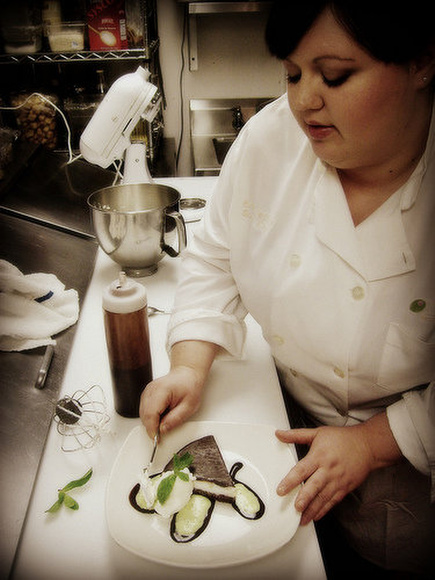 I am a culinary junkie.
My love affair with food began young, with my grandma counting out eggs and blocks of butter for me, standing at her kitchen island mixing up huge batches of cookie dough with little kid hands. It wasn't until later that I realized that much like any affair, it would consume all areas of my life.
After graduating Grand Rapids Catholic Central and working in a local steakhouse from sixteen on, I attended Le Cordon Bleu at Brown College in South St. Paul, Minnesota. Through my schooling, I was part of a team that helped open an upscale dining concept in the Twin Cities called "Enjoy!" Upon graduation, I returned to Grand Rapids and was accepted into an internship program at Flat River Grill in Lowell, a mid-sized bistro belonging to the Gilmore Group.
After completing the internship, I took a position at Centennial Country Club, working for over three years, starting as a line cook, then Sous Chef, and finally Executive Chef.
I fell in love with Olive's in January of 2008, and it is here that I can do what I love most in the world: creating, talking, eating, cooking, breathing, and dreaming food.
I spend most my time out of work with my better half and our two cats T-bone and Pork Chop. I am a karaoke rock star. I love socializing with my friends, throwing dinner parties, and spending time with my family. I love to decorate my home and drink red wine, sometimes simultaneously.
As far as the kitchen goes, I'm inspired by everything. "Mastering the Art of French Cooking," is sitting on the shelf right next to "Miami Spice." I like clean, simple, and robust flavors. I love global food: Korean, Cuban, Thai, Tuscan, Vietnamese, French, and Indian. The possibilities in a kitchen are bottomless, food trend and knowledge is constantly shifting and changing. Boredom is not at option, knowing it all is impossibility, and that is why I love it so: I thirst for it all.